Happy Holidays #Nookers!
Tis the season for Holiday music. It's
FINALLY
here! So whose music, new and old, made my must have list? Thankfully, the albums and singles that I've heard have been a blessing to my soul.
There is absolutely no one like the incomparable, late
GREAT
(and sorely missed)
Fairy Godmother
of music:
Whitney Houston
.
The Voice
. Enough said. I begin my list with the holiday album of one of the greatest to ever spread holiday cheer using only the souls of cherubs and the passion of Christ.
"One Wish - The Holiday Album"
[available:
here
] is truly timeless. May she forever remain perched upon her throne in musical heaven, throwing shade whence so ever the peasants attempt to cover her classics. Amen.
I trust you all wholeheartedly not to judge me so I will admit one of my deepest, darkest secrets to you: I'm lowkey a
GLEEK
. *wails* Although that
Rachel Berry
had to be the most nauseating creature on the face of the planet and the story lines were so predictable that it literally made me ill...I can never resist a good musical! Especially with
Naya Rivera's
(nevermind the fact that she doesn't shower...) sultry amazingness and
Amber Riley's
robust pipes! It highkey annoyed me that the show focused so heavily on
Rachel's
annoying ass's career as though she were the only one that mattered. At any rate they have
"Glee: The
Christmas Album"
. But get this. It's not one, not two, not three, but
FOUR
volumes [available:
Vol. 1
,
Vol. 2
,
Vol. 3
,
Vol. 4
] of Glee-filled holiday debauchery. My heart is singing!
Chillllle...
India Arie
better give me vocal bliss wrapped up in a side of cardiac arrest. How can this woman be so underrated?!? I'm not understanding the logic behind this foolery.
"Christmas With Friends"
[available:
here
] has all the makings of a great album. At any rate, I can't think of any other person I'd prefer to serenade me and dying the most irresistible death of all deaths. Slay me
Queen
! Did I mention that she has both
Brandy
AND
Tori Kelly
on the album??? What kind of
SLEIGH
?!? Listen to a sneak peek below:
IDK what it is about the
Pentatonix
but I can't seem to stop myself from liking them. I really do love acapella singing (Yes, in spite of
'Pitch Perfect'
) and their latest Christmas masterpiece
"That's Christmas To Me"
[available:
here
] is the typical
Pentatonix
style fans have grown to love
.
How can you
NOT
love acapella though?! They
SLAY
! And if you don't
KNOW
who the
Pentatonix
are then I suggest you *
Nicki Minaj voice*
"Do your f*cking research!"
I saw my homegirl
Martina
in
'Motown The Musical'
this year and I have been on a Motown kick ever since! The music?!?
OMG
! I wish I lived in that era. So, of course, I found my way to
"A Motown Christmas"
[available:
here
] and it has alllllll of the original greats that I can't live without anymore. *falls out* You
HAVE
to listen to it. You won't regret it!
Goddammit you
Adele
impersonator. You will not shatter me in such a malicious fashion whilst showing nothing but contempt for my spiritual reawakening. At this point, all the King's horses and all the King's men can't put me back together again. But why would I want them to? I shall lie here in the afterlife and relish the gift that was bestowed upon my musical alter:
"Have Yourself A Merry Little Christmas"
[available:
here
]. I accept thee as tribute.
Sam Smith
is pure genius.
Ariana Grande
gave us 4 singles the year before last
"Last Christmas" "
Love Is Everything" "Snow In California"
and
"Santa Baby"
in a Christmas EP entitled
"Christmas Kisses"
[available:
here
] and she slayed them all
EFFORTLESSLY
. Last year she dropped
"Santa Tell Me"
and once again we all became well aware that
Ari
is out to snatch
somebody's
Christmas crown. This year we received the EP
"Christmas & Chill"
[available:
here
]
plopped right
into our laps with 6 tracks and I am content in my assertion that
QUEEN ARIANA
can never disappoint me. All hail thy diamond and emerald encrusted vocal chords bathed in the blood of Jesus and the tears of flops forgotten. She is
EVERYTHING
.
Kelly Clarkson's
"Wrapped In Red"
[available:
here
] is
LIFE
in musical form!
Kelly
better sang her ass off! I've always been a fan and heaven knows as long as she isn't singing live and struggling to hit those "studio only" notes then she has my vote. People need to take a feather out of
Ariana's
cap. She knows what
NOT
to do live. I love the mix of pop and rock throughout the album. This is
HOW
you make covers original!
Destiny's Child's
"8 Days of Christmas"
[available:
here
] should most definitely be the blueprint for holiday albums. It has just the right amount of uptempo tracks and ballads while still managing to showcase their vocal ability. A finesse not many have mastered. Clearly. The original songs are a blessing and will serve to make any holiday gathering cheery.
Topping the list as always, I saved the best for last, is
Mariah Carey's
"Merry Christmas"
[available:
here
], an eclectic blend of classic and original songs which will forever be
TIMELESS
. Her single
"All I Want For Christmas Is You"
tops the charts every year, and with good reason. This album is executed flawlessly and will continue to be a staple for the Holiday season
ESPECIALLY
having celebrated its 20th anniversary just last yeat. Lambs everywhere have a reason to be proud that
MOTHA Mariah
reigns as the
QUEEN of Holiday Music
...and music in general.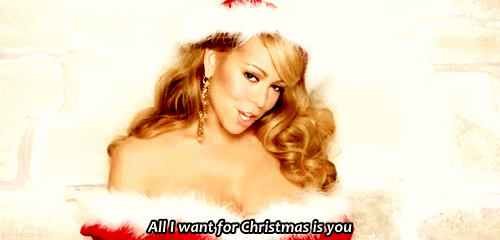 I enjoyed this trek down holiday music lane, for the most part anyways. What most artists lack is vision and originality. We're over the covers of Christmas songs originally sang by Jesus and Moses. If you're going to make an album full of covers, at least make them your own and try to keep your audience from falling asleep or jumping off a ledge. The slow and somber renditions are
NOT
what Christmas is all about. Where's the joy?
Mariah Carey
and
Destiny's Child
had the right idea, which is why their albums will always be classics. Everyone else needs to take note and follow suit.
Natasha Marie
Follow @iNatashasNook
Follow @iNatashaMarie